ISE 2023 attracted 58,107 unique attendees from 155 countries, alongside record-breaking occupation in the city's hotels, bars, and entertainment venues. Exhibitors reported unparalleled footfall at their stands on what was the largest ever ISE show floor. 
 This year, Joe Gaffney, our Network Technology Subject Matter Expert, and I, were invited to the Lightware booth to demonstrate how TAD.monitor works with their products as part of our newly established partnership. We spoke with industry colleagues and clients and shared insights on the emerging need for a holistic, analytical platform to capture and present data on how their workplace technology is being used.
"Beyond our presence at the Lightware booth, we were excited to explore the show floor, and see how others are approaching workplace technology."
As the influences of hybrid work continues to dominate workplace strategy, one major topic of conversation remains, equity in the meeting room. Several manufacturers have developed hardware, such as eye level tabletop cameras, and software that helps ensure every meeting participant can be seen and heard. One example of this technology is the much-anticipated Project Ghost, developed by Logitech in partnership with Steelcase, which was revealed on the ISE floor. Logitech and Steelcase Reveal Project Ghost (futurumresearch.com).  
With the increased emphasis on the importance of meeting equity, it is important to remember that, like with all technology, the results are only as successful as the implementation. Solutions must compliment human behavior to create a natural experience for all by allowing for engagement and collaboration. 



Much like meeting equity implementations, Smart Building technology implementations must be catered to the end-user. Seemingly simple aspects of the in-office experience, such as physical access to amenities and the general workplace, need to be streamlined. It is vital that real estate and executive teams that are leading these initiatives understand how users interact with and move through the space so that the proper technology can be implemented ways that serve their employees. Because of this gap in understanding between those implementing and end-users, smart buildings at large are still trying to find their place in the industry. 
Another common theme at this year's ISE was organizations producing professional, studio–quality content in house, with some impressive camera and recording technologies being shown. The difference between broadcast, film, live, audio visual, and game production is starting to blur. We are moving toward an industry where all video-based content will have the visual impact of high-end feature films combined with the connected and scalable nature of online content and the immersive and social experience of video games. The industry is evolving fast. Five years ago, it was an exception to include a Production Studio into an office design. Today this is commonplace.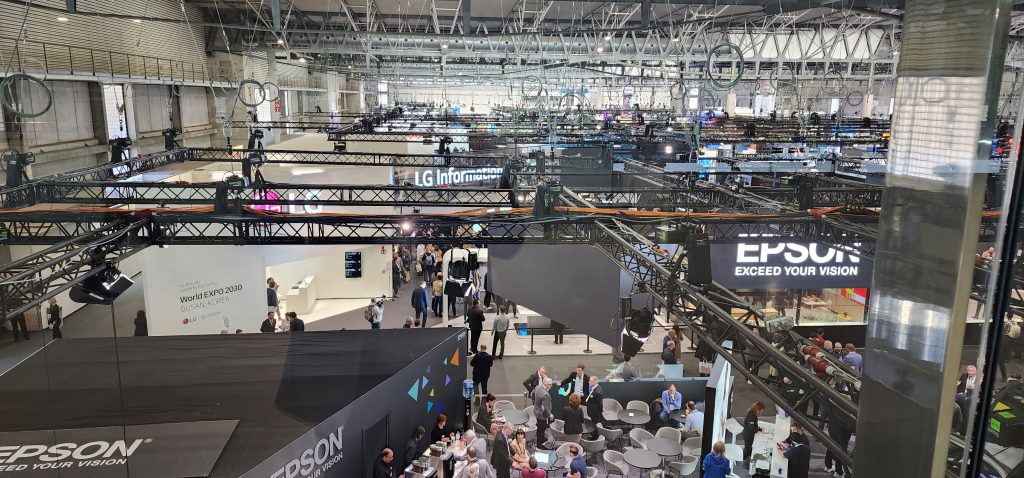 My major takeaway from ISE 2023 is that, as an industry, we are getting a better understanding of how to maximize hybrid workplace technology. Acknowledging that the future is unknown, the best thing we can do is be prepared. It's imperative that organizations are ready to handle in-person work by ensuring their infrastructure can support it. To guarantee a smooth user experience, executives can leverage what we have learned over the past 4-5 years, to motivate employees to come into office and avoid the sentiment that "I could have done that from home." Ensuring a positive experience is harder to do when you are not in person every day which places increased pressure on facilities teams to be prepared for the future. 
To learn more about how TAD can support your unknown workplace future, head to www.tadmonitor.com.