For our first engagement in hospitality, TAD engaged in ROW NYC's lobby revamp. ROW (previously the Milford) set out to bring NYC energy to the hotel and have it serve as a celebration of the lively area in which it resides. In order to achieve a completely immersive lobby experience, we worked closely with Gabellini Sheppard, the architect, and the content artist, Yorgo Alexopoulos. 
Together we sought to create a one-of-a-kind art installation, approaching the reception area with a product design lens. We took the size and shape of the room, the architecture of the building, potential materials, and the content into careful consideration to produce a thoughtful and unique result for ROW. 
The result for the audiovisual scope of work includes two 20' x 8' low resolution, LED walls behind molded acrylic  book-ending the check-in area, a projector architecturally​ integrated into the complex ceiling design in the bar/theater area, and a multi-zoned background music system.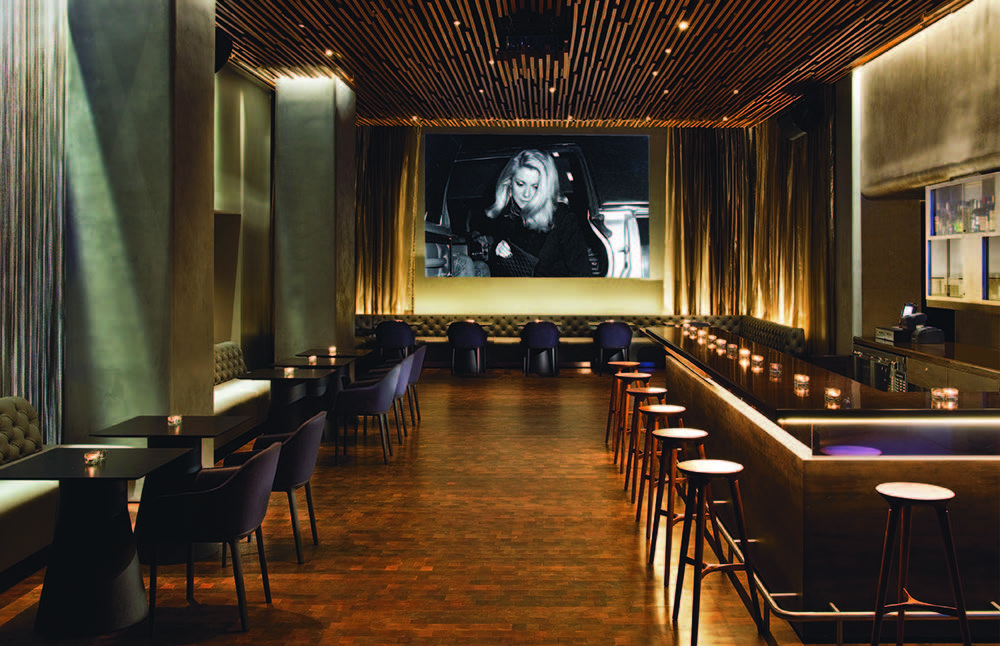 We made several prudent decisions that contributed to the integrity of the artistry in the space. Placing the projector and audio within the architecture, hidden behind the dark wood slats that line the ceiling, allows them to go unnoticed by visitors. This audio system can deliver the heavy localized sound that contributes to the distinct day to day audioscape of the reception area, as well as more casual, dispersed audio that might support a large event. Additionally, TAD designed an overlay for the LED walls that provide a soft, glossy effect, accentuating the etherealness of the digital art and standing in contrast to the dark surroundings. 
Keeping these technical details subtle eliminates distraction, allowing visitors to completely engage with and be immersed in the lobby experience.